OnTimeSupplies.com
1-866-501-6055

Ordering cleaning supplies, sanitizers or tissue products? Visit our Coronavirus Supplies page to see what's in stock and make sure to read our our Coronavirus (COVID-19) Impact FAQs page for the latest information on availability and delivery.
VISION ELITE Stick Roller Ball Pen
Bold 0.8mm, Blue Ink, White/Blue Barrel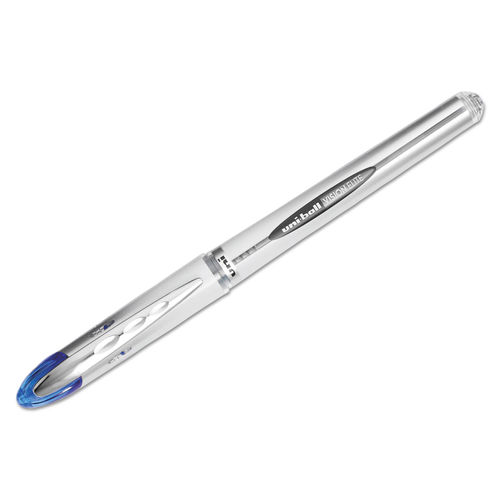 Choose a variation:
View List

Bold 0.8mm, Blue Ink, White/Blue Barrel
Rollerball pens produce smooth, consistent color.
Airplane-safe pen engineered to eliminate leaks due to changes in cabin pressure.
uni-flow Ink System for consistent ink flow and smooth writing.
uni Super Ink provides 3-way protection against water, fading and fraud.
Contemporary design with metallic accents.
Compare us to Big Box Retailers!
Office Depot $5.79
Staples $5.79
* Disclaimer
The competitor pricing information we've provided is for reference only. We strive to keep our data current but occasionally pricing may be out of date. Comparison pricing does not reflect any on-going promotion, discount or contract pricing. Comparison also does not include tax or shipping costs. Office Depot and Staples are copyright trademarks of their respective owners.
Product Details
VISION ELITE Stick Roller Ball Pen, Bold 0.8mm, Blue Ink, White/Blue Barrel
Experience consistent, fluid writing with uni-ball Vision Elite Rollerball pens. Ideal for business travelers, these rollerball pens are designed to be airplane-safe and won't leak in flight. They feature the innovative uni-Flow Ink System that creates a steady flow of water-resistant ink for smooth, consistent writing.
Dimensions / Specifications
Unit of Measure
EA
Item Dimensions
0.50 in. x 0.30 in. x 5.60 in. (W x H x D)
Item Weight
0.026 lbs
Carton Pack Quantity
144 EA
Carton Pack Dimensions
7.25 in. x 6.38 in. x 7.25 in. (W x H x D)
Carton Pack Weight
4.379 lbs
This item is sold by the EA
Shipping Info
Can Ship via UPS?
Yes
Can Ship via Air Carrier?
Yes
Hazmat restrictions?
No
Additional Information
Is Certified with EPA/CPG?
No
Considered Green (less environmental impact)?
No
Made of Some or All Recycled Materials?
No
Warranty Offered?
No
Underwriter's Laboratory Approval?
No
Item Specifications
Brand
uni-ball®
Global Product Type
Pens-Rollerball Pen
Pen Sub-Brand & SKU Line
VISION ELITE™
Pen Style
Stick
Pen Type
Roller Ball Pen
Refillable (Yes/No)
Yes
Manufacturer Pen Refill #
69113PP
Pen Point Size Type
Bold
Pen Point Size
0.8 mm
Pen Ink Color(s)
Blue
Color Family
Blue
Pen Barrel Color(s)
White/Blue
Pen Cap Color(s)
White/Blue
Special Ink Type
Waterproof
Pen Tip Type
Conical
Pen Grip Type
Textured
Visible Ink Supply
Yes
Pocket Clip
Yes
For Use With
uni-ball® 69113PP
Pre-Consumer Recycled Content Percent
0%
Post-Consumer Recycled Content Percent
0%
Total Recycled Content Percent
0%
Manufacturer Info
Brand
uni-ball® (website)
Brand Contact
800-346-3278
Warranty Offered?
n
Manufacturer Stock No.
69024
Staples Equivalent SKU
812117
Office Depot Equivalent SKU
655853
Retail UPC
030246690246
Country of Origin
JP
UNSPSC Number
00441217
Meets ANSI/BIFMA?
030246690246
Product ID
9961384
Customer Questions & Answers
No one has asked us a question about this product yet. If you have one, ask away!
Colleen Gonzales
Monroe NC
I collect pens. So when I received this Vision Elite Roller Ball Stick Waterproof Pen. I had to try it out because it said Waterproof. So I wrote on a piece of paper let it dry and then poured water on the paper as if I accidentally spilled coffee or juice. The ink did not run, wash off or smear. The ink dried quickly and the blue color was bright. So this pen would be great for document signing or check signing because the ink does not come off. The pen wrote smoothly on the paper no globs of ink or staining through the paper.
This pen makes me feel fancy when I use it. It's a high quality ink pen that looks nice. The cap has a great clip that seem high quality, like it wont' snap off easily. The ink comes out smoothly and dries quickly. Since the ink dries quickly, it doesn't smear. It's great for writing lists or checks with. Plus, it's a pretty blue ink (not the regular blue color I usually get in pens). Also, it has a unique grip on it.
Alexander
Morehead City, NC
The Vision Elite Roller is an amazing pen. A slick design, with a sleek and light feel to it. This pen is the cream of the crop! The ink applies to the paper in a nice dark, and yes bold, line. This pen is good whether you want to write in Cursive or in Block letter. This pen is also great if you are signing contracts, filling out forms, or just messing around. Want to impress a client? Then this is the pen for you. Also it is great because it actually is waterproof. Yes, I tested it. I poured a glass of water over the paper that I had written on with this pen and a few others. The only ink left was the ink from this pen!!

~ 4 Thumbs Up ~
( Better Than 2 )
It is very bold, fluid, performs well.
I am very pleased with this pen.
100% Satisfaction Guarenteed!
If you experience a problem with any of our products, customer service, shipping, or even if you just plain don't like what you bought, please let us know. We'll do whatever it takes to make it right.
Copyright © 2020 OnTimeSupplies.com, an
Office Supplies
company. P.O. Box 888016, Atlanta, GA 30356.
Document printed / saved on 05/28/2020. Prices subject to change.