Neon Windows Dry Erase Marker
Broad Bullet Tip, Assorted Colors, 5/Pack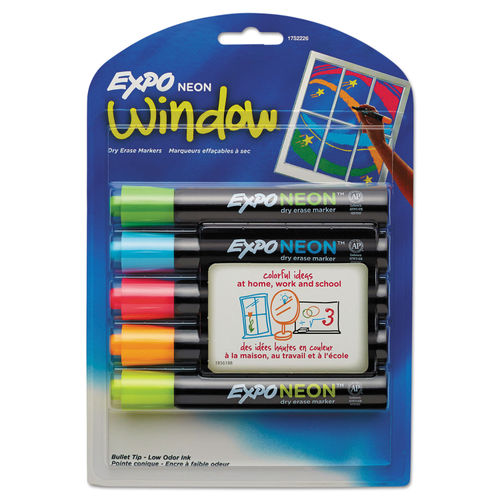 Item #:
SAN1752226
by
EXPO®
Vibrant, high-impact colors are easy to see from a distance and erase easily.
Neon ink is formulated to mark on windows and both black and white boards.
Low-odor ink is perfect for the classroom and kitchen.
Sturdy tip creates bold marks.
Compare us to Big Box Retailers!
Office Depot $9.69
Staples $9.79
* Disclaimer
The competitor pricing information we've provided is for reference only. We strive to keep our data current but occasionally pricing may be out of date. Comparison pricing does not reflect any on-going promotion, discount or contract pricing. Comparison also does not include tax or shipping costs. Office Depot and Staples are copyright trademarks of their respective owners.
Product Details
Neon Windows Dry Erase Marker, Broad Bullet Tip, Assorted Colors, 5/Pack
Create vibrant marks on windows, mirrors and dark surfaces with Expo Neon Low Odor Dry Erase Markers. The neon window markers feature a specially designed, low-odor ink that can be used on both black and white dry erase surfaces as well as windows. The ink goes on bright yet also erases easily. Use your colorful Expo dry erase markers to leave notes and give exciting lessons.
Dimensions / Specifications
Unit of Measure
ST
Item Dimensions
5.75 in. x 8.37 in. x 0.75 in. (W x H x D)
Item Weight
0.260 lbs
Box Pack Quantity
6 ST
Box Pack Dimensions
5.75 in. x 4.75 in. x 8.38 in. (W x H x D)
Box Pack Weight
1.420 lbs
Carton Pack Quantity
48 ST
Carton Pack Dimensions
12.00 in. x 8.81 in. x 23.81 in. (W x H x D)
Carton Pack Weight
12.480 lbs
Pack Quantity
5 EA
This item is sold by the ST which contains 5 EA
Shipping Info
Can Ship via UPS?
Yes
Can Ship via Air Carrier?
Yes
Hazmat restrictions?
No
Additional Information
Considered Green (less environmental impact)?
Yes
Made of Some or All Recycled Materials?
No
Warranty Offered?
No
Underwriter's Laboratory Approval?
No
Item Specifications
Brand
EXPO®
Global Product Type
Markers-Dry Erase Markers
Marker Ink Type
Dry Erase
Marker Tip Type
Bullet
Marker Tip Size (text)
Broad
Marker Color(s)
Assorted
Color Family
Multicolor
Marker Color Assortment
Neon Blue; Neon Green; Neon Orange; Neon Pink; Neon Yellow
Marker Grade
General Use
Compliance Standards
ACMI AP Non-Toxic Certified; Conforms to ASTM D4236 Standards
Pre-Consumer Recycled Content Percent
0%
Post-Consumer Recycled Content Percent
0%
Total Recycled Content Percent
0%
Manufacturer Info
Brand
EXPO® (website)
Brand Contact
1-800-346-3278
Warranty Offered?
n
Manufacturer Stock No.
1752226
Staples Equivalent SKU
829386
Office Max Equivalent SKU
22244581
Office Depot Equivalent SKU
124902
Retail UPC
071641010666
Country of Origin
JP
UNSPSC Number
00441217
Meets ANSI/BIFMA?
071641010666
Product ID
9225350
Customer Questions & Answers
No one has asked us a question about this product yet. If you have one, ask away!
Colleen Gonzales
Monroe NC
The Expo Neon Window markers are ideal for rainy days. All the kids have to do is find a glass window or door and draw what they want on it. You can also use mirrors to remind kids to brush their teeth. They are very bright in their colors and stay on the glass for along time. It is really simple in cleaning all you have to do is grab a rag or even a dry erase cleaning pad and erase. Its even better if you have a black dry erase board to color on or if you have a business and want to put out a cool sign for summer the neon colors stick out even brighter. You can even use these for crafts if you are doing a pool party outside to leave messages on doors on where the pool is or the food.
Alexander
Morehead City, NC
BEST Window Markers EVER !!!!!!!!

These are amazing! unlike other window markers they apply evenly with no streaking, and when you want to take them off all that is needed is one swipe from almost anything. You can use a paper towel, tissue, or even your finger!.. No need for a dry erase marker. I used them on my sliding glass door and bathroom mirror so far and I cannot be happier!... The colors are very bright and very identical to the caps shown here.

I would purchase again and again. I would also recommend to anyone!
100% Satisfaction Guarenteed!
If you experience a problem with any of our products, customer service, shipping, or even if you just plain don't like what you bought, please let us know. We'll do whatever it takes to make it right.
Copyright © 2020 OnTimeSupplies.com, an
Office Supplies
company. P.O. Box 888016, Atlanta, GA 30356.
Document printed / saved on 07/13/2020. Prices subject to change.