Presto! Multipurpose Correction Pen
12 ml, White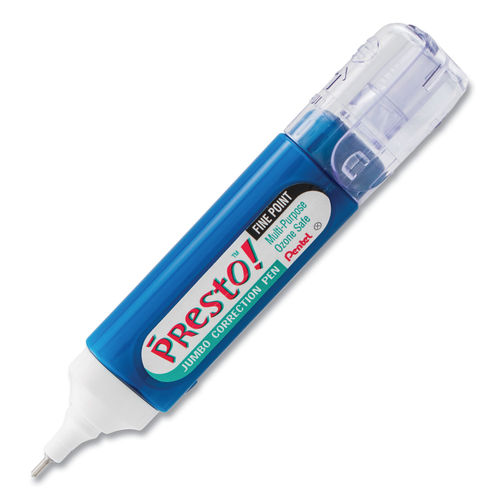 Multi-purpose, ozone-safe correction fluid works on ball point, roller ball and felt tip marker ink, photocopies, computer printouts, typewritten documents and handwritten originals.
White fluid covers errors neatly and dries quickly to a silky-smooth finish.
Fine point metal tip is ideal for small print and detail work.
Ozone-safe formula.
Compare us to Big Box Retailers!
Office Depot $5.39
Staples $6.23
* Disclaimer
The competitor pricing information we've provided is for reference only. We strive to keep our data current but occasionally pricing may be out of date. Comparison pricing does not reflect any on-going promotion, discount or contract pricing. Comparison also does not include tax or shipping costs. Office Depot and Staples are copyright trademarks of their respective owners.
Product Details
Presto! Multipurpose Correction Pen, 12 ml, White
Ozone-Safe Correction Fluid Pen by Pentel.
Pentel Presto! Multipurpose Correction Pen goes on easy and lays down smoothly. You get complete coverage with no show through or flaking. Plus, PENZL31W Correction Fluid Pens are even environmentally friendly, thanks to the ozone-safe formula.
Fine point pen tip for correct small print.
The Presto! Correction Fluid Pens is perfect for correcting handwriting and small print, The fine metal tip allows for enhanced precision. And thanks to the handy pocket clip, you can take your correction fluid pen anywhere.
Related Office Ink Blog Articles:
How to revive dried out pens: 5 Tips
Who hasn't reached for a pen only to find that it's all dried out and doesn't work anymore. Luckily, you can revive dried out pens. Easily. So before you toss your scratchy pen, try our 5 tips on how to revive dried out pens.
How to write with a quill pen
Just because you aren't a Founding Father or a student at Hogwarts doesn't mean you can't write with a quill pen. In a world of touchscreens and keyboards, learning how to write with a quill pen is fun hobby that doesn't require any special calligraphy skills.
Dimensions / Specifications
Unit of Measure
EA
Item Dimensions
0.90 in. x 4.10 in. x 0.60 in. (W x H x D)
Item Weight
0.066 lbs
Box Pack Quantity
12 EA
Carton Pack Quantity
288 EA
Carton Pack Dimensions
12.00 in. x 12.25 in. x 5.00 in. (W x H x D)
Carton Pack Weight
21.440 lbs
This item is sold by the EA
Shipping Info
Can Ship via UPS?
Yes
Can Ship via Air Carrier?
Yes
Hazmat restrictions?
No
Additional Information
Considered Green (less environmental impact)?
No
Made of Some or All Recycled Materials?
No
Warranty Offered?
Yes
Warranty Comments
Manufacturer's limited lifetime warranty.
Item Specifications
Brand
Pentel®
Global Product Type
Correction Fluids-Applicator-Tip Correction Fluids
Correction Fluid Type
Pen Applicator
Color(s)
White
Applicator Type
Pen Tip
Capacity (Volume)
12 mL
Suggested Use
Small Print
Pre-Consumer Recycled Content Percent
0%
Post-Consumer Recycled Content Percent
0%
Total Recycled Content Percent
0%
Special Features
Flat-Style Barrel-Provides extra-long use.
Manufacturer Info
Brand
Pentel® (website)
Brand Contact
800-421-1419
Warranty Offered?
y
Manufacturer Stock No.
ZL31W
Staples Equivalent SKU
521930
Office Max Equivalent SKU
20711482
Office Depot Equivalent SKU
909291
Retail UPC
072512051412
Country of Origin
JP
UNSPSC Number
00441218
Meets ANSI/BIFMA?
072512051412
Product ID
5940432
Customer Questions & Answers
No one has asked us a question about this product yet. If you have one, ask away!
We love these pens, sell the to our customers and with the Bulk rates they are affordable for our customers. Been using them for years.
100% Satisfaction Guarenteed!
If you experience a problem with any of our products, customer service, shipping, or even if you just plain don't like what you bought, please let us know. We'll do whatever it takes to make it right.
Copyright © 2020 OnTimeSupplies.com, an
Office Supplies
company. P.O. Box 888016, Atlanta, GA 30356.
Document printed / saved on 07/13/2020. Prices subject to change.