OnTimeSupplies.com
1-866-501-6055
1200-4 Business Desktop Calculator
12-Digit LCD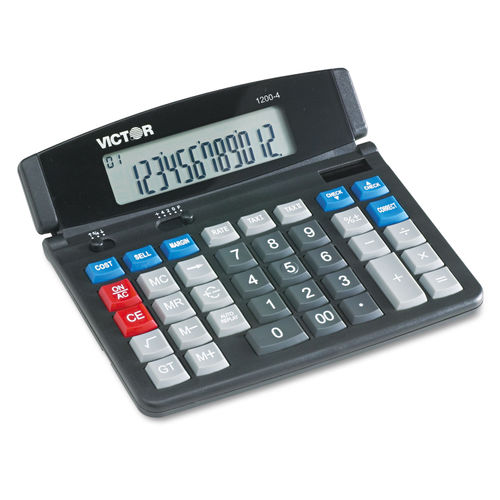 Automatic Replay checks and corrects up to 99 entries.
Dual solar/battery power for use no matter what the lighting conditions.
Auto power down.
Compare us to Big Box Retailers!
Office Depot $33.99
Staples $37.49
* Disclaimer
The competitor pricing information we've provided is for reference only. We strive to keep our data current but occasionally pricing may be out of date. Comparison pricing does not reflect any on-going promotion, discount or contract pricing. Comparison also does not include tax or shipping costs. Office Depot and Staples are copyright trademarks of their respective owners.
Product Details
1200-4 Business Desktop Calculator, 12-Digit LCD
Automatic Replay checks and corrects up to 99 entries. Dual solar/battery power for use no matter what the lighting conditions. Auto power down.
Dimensions / Specifications
Unit of Measure
EA
Item Weight
0.834 lbs
Ships via UPS?
Yes
Box Pack Quantity
1 EA
Carton Pack Quantity
40 EA
This item is sold by the EA
Warranty Offered?
Yes
Warranty Comments
Manufacturer's limited two-year warranty.
Item Specifications
Brand
Victor®
Global Product Type
Calculators-Basic
Power Source(s)
Battery; Solar
Display Notation
Numeric
Number of Display Digits
12
Memory
4-Key
Display Type(s)
LCD
Display Angle
Adjustable
Display Characters Height
17 mm
Percent Key(s)
Yes
Fraction Calculations
No
Fraction/Decimal Conversions
No
Decimal Function
Yes
+/- Switch Key
Yes
Currency Exchange Function
No
Metric Conversion
No
Backspace Key
Yes
Double Zero Key
Yes
Amortization
No
Base Number Calculations
No
Bond Calculations
No
Complex Number Calculations
No
Confidence Interval Calculating
No
Cost/Sell/Margin
Yes
Date Calculations
No
Depreciation Calculations
No
Equation Editor
No
Grand Total Key
Yes
Hyperbolic Functions
No
Hypothesis Testing
No
Interest Rate Conversion
No
Item Count Function
No
Linear Regression
No
Loan Calculation
No
Logical (Boolean) Operations
No
Markup/Down Key
No
Matrices
No
Percent Add-On/Discount
Yes
Polar-Rectangular Conversion
No
Probability (Random Number)
No
Simultaneous Equations
No
Square Root Key
Yes
Tax Calculation
Yes
Time-Value-of-Money
No
Time/Date
No
Trig/Log Functions
No
Variable Regression
No
Size
7 1/4 x 6 3/8
Replacement Batteries
1.5V Silver Oxide
Wall-Mountable
Yes
Pre-Consumer Recycled Content Percent
50%
Post-Consumer Recycled Content Percent
0%
Total Recycled Content Percent
50%
Manufacturer Info
Brand
Victor® (website)
Brand Contact
800-628-2420
Warranty Offered?
y
Manufacturer Stock No.
12004
Staples Equivalent SKU
813633
Office Max Equivalent SKU
20533497
Office Depot Equivalent SKU
665797
Retail UPC
014751120047
Country of Origin
CN
UNSPSC Number
44101809
Meets ANSI/BIFMA?
014751120047
Product ID
9937186
Customer Questions & Answers
No written reviews yet for this product. Help others by writing one!
100% Satisfaction Guarenteed!
If you experience a problem with any of our products, customer service, shipping, or even if you just plain don't like what you bought, please let us know. We'll do whatever it takes to make it right.
Copyright © 2019 OnTimeSupplies.com, an
Office Supplies
company. P.O. Box 888016, Atlanta, GA 30356.
Document printed / saved on 09/18/2019. Prices subject to change.