Disposable gloves are useful in many different industries to provide a barrier of protection between hands and sensitive materials. People who work in the food and beverage industry use disposable gloves on a regular basis to prevent the spread of germs and keep consumables from becoming contaminated. But what many food service workers don't realize is that some types of disposable gloves are more suited to their line of work than others.
So to address the specific needs of restaurants, bars, coffee shops, food trucks, and caterers, here's a disposable glove buying guide to help you make the best decision for your business.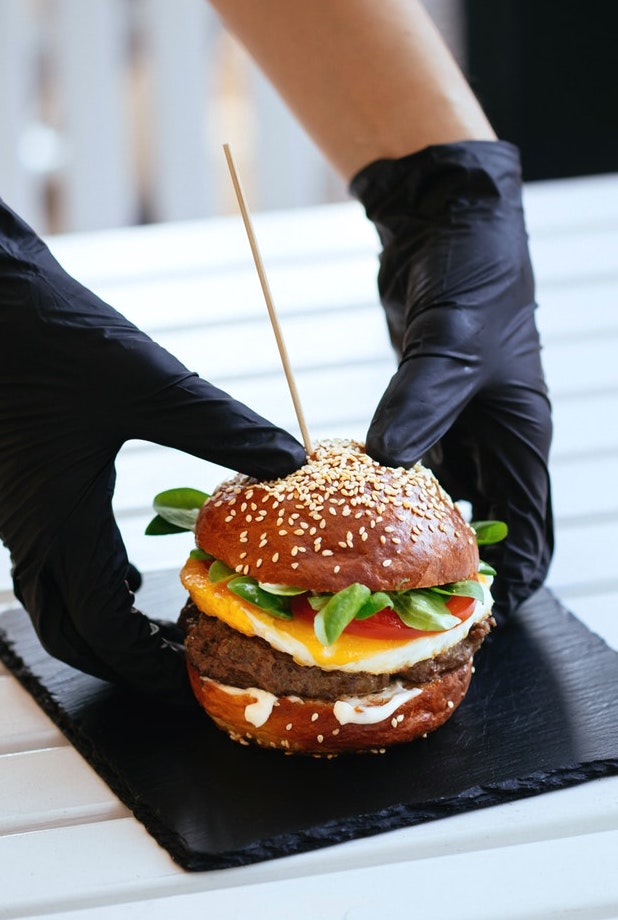 Topics Covered in this Buying Guide
1. Uses for Disposable Gloves in the Kitchen
The most commonly cited use for disposable gloves in the kitchen is to provide protection from foodborne illnesses. Hundreds of foodborne illnesses exist and cause people to get sick from eating contaminated food. Fortunately, this is a preventable problem with the right kind of disposable gloves.
In addition to preventing the spread of bacteria, disposable gloves also help protect your hands from burning when cutting spicy foods, such as jalapeno peppers. They keep acidic juices out of cuts on your hands and protect your nails too. It's easier to separate an egg yolk from the egg white while wearing disposable gloves. Also, tossing a salad is a lot less messy and safer if you're wearing a pair of them. Strong food odors, such as garlic and fish, won't get stuck on your hands as badly when wearing gloves. And they also come in handy when trying to unscrew the lids of over-tightened jars and containers.
2. What to Look for in Food Prep Gloves
Overall, food prep disposable gloves are designed for short-term use and frequent changes. It's best to change your gloves regularly, rather than reusing them with food and cooking surfaces day after day. Common and affordable multi-purpose gloves are great options to choose from for this purpose.
When shopping for food prep gloves for your business, there are a few key things to look for. For one, it is a smart idea to buy food prep gloves with an antimicrobial agent to prevent the growth of microorganisms. You'll may also want to choose powder-free gloves so that no residue is left behind on food. Food prep gloves with thicknesses between 2 millimeters and 15 millimeters are ideal for the various kinds of food prep work.
3. Best Materials for Food Prep Gloves
Polyethylene, latex, vinyl, and nitrile are all appropriate materials for food prep gloves. This is good to know because these are the most popular glove materials on the market, so they should be pretty easy to find for your online order. Neoprene gloves probably aren't necessary for food prep, and avoid latex gloves if you have an allergy.
Poly is a good material if you need to change gloves often and for food prep tasks that don't require a high level of dexterity. Meanwhile, vinyl is ideal for tasks that require more fingertip sensitivity and overall durability. Some latex gloves are made up of mostly renewable resources, making them an eco-friendly choice.
Playtex gloves made from yellow latex work well for some types of food processing work because they're comfortable, they easily slide on and off, and they keep hands dry. These types of gloves also have great tactile sensitivity and puncture resistance. Powder-free white latex gloves are good for single-use tasks in food service. Alternatively, powder-free vinyl gloves work well for single uses. Nitrile low-dermatitis gloves made with purple nitrile are general, all-purpose gloves that have no latex materials. These are good options for people with latex sensitivities.
4. Benefits of Buying in Bulk
Since most food prep work requires single-use disposable gloves, busy food industry businesses will go through many of these each week. It's common for restaurants to spend thousands of dollars on gloves each year by going through a case or two per week.This is where buying in bulk can help.
It is highly recommended to buy food prep gloves in bulk so that you always have enough on hand. Without enough gloves to use, you could be unsafely cutting corners and putting your customers at risk of foodborne illnesses. Buying in bulk is also a great way to reduce business costs for the year.
5. Recommended Disposable Gloves for Food Prep
Now with all that in mind, you should be in a better position to choose a great style of gloves to prepare delicious foods for yourself, your staff, and your customers to savor and enjoy. Here are our top recommendations for disposable food prep gloves to choose from in four different materials!
Vinyl: MCF Safety Disposable Vinyl Gloves 5010XL, Clear, Large, 1000/Carton
If you need more info before purchasing any products mentioned in this article, please
contact our sales
department instead.
If you wish to leave a comment or feedback on this article, please use our
leave a comment
feature instead. We typically respond to all sales requests within 1-2 business days.
We've received your sales help request! We typically respond within 1-2 business days; however, if you need purchasing help immediately, please call us at 1-866-501-6055.