Presenter Expert Wireless Cursor Control with Green Laser
150 ft. Range, Black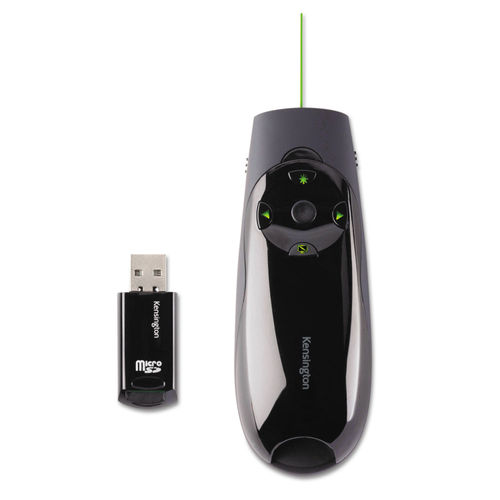 Choose a variation:
View List

Wireless range up to 150 feet.
Green laser pointer is ten times brighter than standard red pointers.
Intuitive four-button design.
Switch instantly from presenter mode to cursor control mode.
Controls Keynote® and PowerPoint®.
Low battery indicator.
On/off switch.
USB receiver stores inside remote.
Compare us to Big Box Retailers!
Office Depot $109.19
* Disclaimer
The competitor pricing information we've provided is for reference only. We strive to keep our data current but occasionally pricing may be out of date. Comparison pricing does not reflect any on-going promotion, discount or contract pricing. Comparison also does not include tax or shipping costs. Office Depot and Staples are copyright trademarks of their respective owners.
Product Details
Presenter Expert Wireless Cursor Control with Green Laser, 150 ft. Range, Black
Make your point with this bright green wireless laser presenter that's suitable for even the biggest rooms and brightest screens. It's ten times brighter than standard red lasers, so it stands out against even the brightest LCD and plasma displays. Its intuitive four-button design makes it easy to navigate. When you need to move your cursor, a quick flip of a button gives you full cursor control. The powerful remote resists interference and lets you control Keynote® or PowerPoint® from up to 150 feet away.
Dimensions / Specifications
Unit of Measure
EA
Item Dimensions
5.25 in. x 8.12 in. x 3.00 in. (W x H x D)
Item Weight
0.550 lbs
Carton Pack Quantity
4 EA
Carton Pack Dimensions
12.50 in. x 7.75 in. x 5.75 in. (W x H x D)
Carton Pack Weight
2.750 lbs
This item is sold by the EA
Shipping Info
Can Ship via UPS?
Yes
Can Ship via Air Carrier?
Yes
Hazmat restrictions?
No
Additional Information
Is Certified with EPA/CPG?
No
Considered Green (less environmental impact)?
No
Made of Some or All Recycled Materials?
No
Warranty Offered?
Yes
Warranty Comments
Manufacturer's limited two-year warranty.
Underwriter's Laboratory Approval?
No
Item Specifications
Brand
Kensington®
Global Product Type
Presenters-Remote with Laser Pointer
Operating System Compatibility
Mac® OS X 10.11; Windows® XP, Vista™, 7, 8, 10
Class Type
2
Presenter Type
Remote with Laser Pointer
Batteries Required
2 AAA
Batteries Included
Yes
Color(s)
Black
Depth
3"
Height
8"
Width
5.25"
Frequency
2.4 GHz
Maximum Wireless Range
150 ft
Pre-Consumer Recycled Content Percent
0%
Post-Consumer Recycled Content Percent
0%
Total Recycled Content Percent
0%
Disclaimer Statement
Class 2 laser pointers can be used in many venues that currently ban Class 3A lasers, such as governmental institutions and schools. It is never acceptable to intentionally look directly into any laser pointer beam. This lower powered laser, designed for safe use by responsible adults, allows the body's natural defenses to protect the eyes.
Manufacturer Info
Brand
Kensington® (website)
Brand Contact
800-535-4242
Warranty Offered?
y
Manufacturer Stock No.
K72426AMA
Staples Equivalent SKU
IM1QP8030
Office Max Equivalent SKU
25394564
Office Depot Equivalent SKU
479485
Retail UPC
085896724261
Country of Origin
CN
UNSPSC Number
00451116
Meets ANSI/BIFMA?
085896724261
Product ID
8998478
Customer Questions & Answers
No one has asked us a question about this product yet. If you have one, ask away!
No written reviews yet for this product. Help others by writing one!
100% Satisfaction Guarenteed!
If you experience a problem with any of our products, customer service, shipping, or even if you just plain don't like what you bought, please let us know. We'll do whatever it takes to make it right.
Copyright © 2020 OnTimeSupplies.com, an
Office Supplies
company. P.O. Box 888016, Atlanta, GA 30356.
Document printed / saved on 07/07/2020. Prices subject to change.