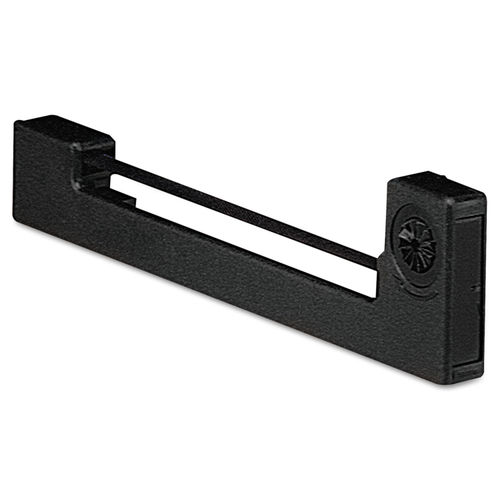 For use with Epson® HX20, M160, M163, M164, M180, M181, M182, M183, M190, M191 and M192 cash registers.
Consistent, trouble-free performance.
Compare us to Big Box Retailers!
Office Depot $2.99
Staples $4.19
* Disclaimer
The competitor pricing information we've provided is for reference only. We strive to keep our data current but occasionally pricing may be out of date. Comparison pricing does not reflect any on-going promotion, discount or contract pricing. Comparison also does not include tax or shipping costs. Office Depot and Staples are copyright trademarks of their respective owners.
Product Details
ERC09B Ribbon, Black
This product fits the following machines:
B&E RE 4100
B&E RE 4100-10
B&E RE 4100-6
BMC International 3000
BMC International AP190
Brandt 1100
Brandt 1209
Brandt 2790 Journal
Brandt 2791 Journal
Brandt 2792 Journal
Brandt 2793 Journal
Brandt 2794 Journal
Brandt Mach 7 Coin Sorter
Casio FE-700
Datamega DPN-2233
Datamega DPN-2240
Datamega DPN-2250
Datamega DPN-2260
Datamega DPN-233
Datamega DPN-2350
Datamega DPN-238-24
Datamega DPN-240
Datamega DPN-250
Datamega DPN-260
Datamega DPN-270
Datamega DPN-290
DED D166
DED D173
DH Technology DH 1012
DH Technology DH 1014
DH Technology DP 1000
DH Technology DP 1012
DH Technology DP 1014
Diebold 1042
Diebold React System
Epson 160
Epson 161
Epson 163
Epson 164
Epson 180
Epson 181
Epson 182
Epson 183
Epson 185
Epson 190
Epson 195
Epson EHT-20
Epson ERC-09
Epson ERC-80
Epson HX-20
Epson HX-40
Epson M 150
Epson M 160
Epson M 161
Epson M 163
Epson M 164
Epson M 180
Epson M 181
Epson M 182
Epson M 183
Epson M 185
Epson M 190
Epson M 190 G
Epson M 192 G
Epson M 195
Epson P-40
Fortronics F85
Fuji Systems/Kanematsu FZ-1026 Journal
Fuji Systems/Kanematsu FZ-3132 Journal
GD/G&D POS Printer
Hedman E 1000 Journal
Hedman E 2002 Journal
Hedman E 2004 Journal
Hedman M 100 Journal
Hedman M 101 Journal
Hedman M 102 Journal
Hedman M 103 Journal
Hedman M 104 Journal
Hedman M 105 Journal
Hedman M 106 Journal
Hypercom P3D
Hypercom P7
Hypercom T1E
Hypercom T7P Credit Card Terminal W/P7
Maverick 420 Journal
Maverick 425 Journal
Maverick M210 System - Journal
Maverick Micr I Journal
Maverick Micr II Journal
Nikko NK-200
Nippon Primex NP-520
Olivetti CRF 2608
Omniprint OM-190
Omniprint OPC-180
Omniprint OPC-190
Omniprint PM-190
Omron 055 EXP
Omron C.A.T. 110
Omron C.A.T. 98 W/O55 Printer
Omron POS-50
Panasonic JT-PR70
Samsung ER Series ER 700
Sharp ER Series ER-A210
Standard Register TE 1800 Lister
Standard Register TE 1804 Lister
Standard Register TE 1806 Lister
Standard Register TE 1807 Lister
Standard Register TE 1904 Lister
Standard Register TE 1914 Lister
Standard Register TE 1916 E Lister
Standard Register TE 1916 Lister
Standard Register TE 1931 Lister
Standard Register TE 1933 Lister
Standard Register TE 1934 Lister
Swintec SW 1260
Systex PW-1000
Teknika G-1800
Teknika G-910
Telxon Corp. iP24
Telxon Corp. MP24
Telxon Corp. MP730
Telxon Corp. POS-5000
Trintech 2400
Unisys ENC 9000
Unisys NDP-60
Verifone Tranz 420
Verifone Tranz 460
Westrex International S200

For use with Epson® HX20, M160, M163, M164, M180, M181, M182, M183, M190, M191 and M192 cash registers. Consistent, trouble-free performance.
Dimensions / Specifications
Unit of Measure
EA
Item Dimensions
3.20 in. x 0.30 in. x 4.50 in. (W x H x D)
Item Weight
0.021 lbs
Box Pack Quantity
50 EA
Box Pack Dimensions
2.60 in. x 4.80 in. x 17.40 in. (W x H x D)
Box Pack Weight
1.250 lbs
Carton Pack Quantity
200 EA
Carton Pack Dimensions
10.50 in. x 5.75 in. x 18.30 in. (W x H x D)
Carton Pack Weight
6.000 lbs
This item is sold by the EA
Shipping Info
Can Ship via UPS?
Yes
Can Ship via Air Carrier?
Yes
Hazmat restrictions?
No
Additional Information
Considered Green (less environmental impact)?
No
Made of Some or All Recycled Materials?
No
Warranty Offered?
No
Item Specifications
Brand
Epson®
Global Product Type
Ink/Correction Ribbons
Device Types
Cash Register
Color(s)
Black
OEM/Compatible
OEM
Material(s)
Nylon
For Use With
Epson® HX20; M160, 163, 164, 180, 181, 182, 183, 190, 191, 192
Pre-Consumer Recycled Content Percent
0%
Post-Consumer Recycled Content Percent
0%
Total Recycled Content Percent
0%
Manufacturer Info
Brand
Epson® (website)
Brand Contact
800-533-3731
Warranty Offered?
n
Manufacturer Stock No.
ERC09B
Staples Equivalent SKU
537001
Office Max Equivalent SKU
20443575
Office Depot Equivalent SKU
470280
Retail UPC
010343852877
Country of Origin
JP
UNSPSC Number
00441031
Meets ANSI/BIFMA?
010343852877
Product ID
5632039
Customer Questions & Answers
No one has asked us a question about this product yet. If you have one, ask away!
No written reviews yet for this product. Help others by writing one!
100% Satisfaction Guarenteed!
If you experience a problem with any of our products, customer service, shipping, or even if you just plain don't like what you bought, please let us know. We'll do whatever it takes to make it right.
Copyright © 2020 OnTimeSupplies.com, an
Office Supplies
company. P.O. Box 888016, Atlanta, GA 30356.
Document printed / saved on 09/24/2020. Prices subject to change.