Stick Roller Ball Pen
Micro 0.5mm, Blue Ink, Black Matte Barrel, Dozen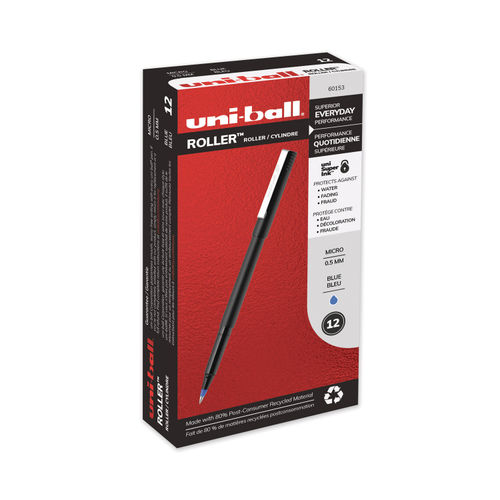 Choose a variation:
View List

Micro 0.5mm, Blue Ink, Black Matte Barrel, Dozen
Dependable, free-flowing writing from the moment the pen hits paper.
Features uni Super Ink™ which protects against water, fading and fraud.
Attractive matte finish and durable metal clip.
Made in part from recycled electronics.
Compare us to Big Box Retailers!
Office Depot $14.49
Staples $13.69
* Disclaimer
The competitor pricing information we've provided is for reference only. We strive to keep our data current but occasionally pricing may be out of date. Comparison pricing does not reflect any on-going promotion, discount or contract pricing. Comparison also does not include tax or shipping costs. Office Depot and Staples are copyright trademarks of their respective owners.
Product Details
Stick Roller Ball Pen, Micro 0.5mm, Blue Ink, Black Matte Barrel, Dozen
Rollerball pen fans have long appreciated this true classic. Writing as smooth as a fountain pen, but without the mess, it's been a favorite for decades! uni Super Ink™, a pigment-based formula containing particles that form an indelible bond in paper that can't be broken...ever, protects against water, fading and fraud. In all ways, it's a pen you can rely on! Features an attractive matte finish and a durable metal clip.
Dimensions / Specifications
Unit of Measure
DZ
Item Dimensions
2.80 in. x 1.00 in. x 5.80 in. (W x H x D)
Item Weight
0.249 lbs
Carton Pack Quantity
12 DZ
Carton Pack Dimensions
6.88 in. x 6.00 in. x 6.88 in. (W x H x D)
Carton Pack Weight
3.209 lbs
This item is sold by the DZ
Shipping Info
Can Ship via UPS?
Yes
Can Ship via Air Carrier?
Yes
Hazmat restrictions?
No
Additional Information
Considered Green (less environmental impact)?
Yes
Made of Some or All Recycled Materials?
Yes
Warranty Offered?
No
Item Specifications
Brand
uni-ball®
Global Product Type
Pens-Rollerball Pen
Pen Style
Stick
Pen Type
Roller Ball Pen
Refillable (Yes/No)
No
Pen Point Size Type
Micro
Pen Point Size
0.5 mm
Pen Ink Color(s)
Blue
Color Family
Blue
Pen Barrel Color(s)
Black Matte
Pen Cap Color(s)
Black
Special Ink Type
Dye-Based
Pen Tip Type
Conical
Pen Grip Type
Smooth
Visible Ink Supply
No
Pocket Clip
Yes
Pre-Consumer Recycled Content Percent
0%
Post-Consumer Recycled Content Percent
80%
Total Recycled Content Percent
80%
Manufacturer Info
Brand
uni-ball® (website)
Brand Contact
800-346-3278
Warranty Offered?
n
Manufacturer Stock No.
60153
Staples Equivalent SKU
132605
Office Max Equivalent SKU
10002089
Office Depot Equivalent SKU
149757
Retail UPC
030246601532
Country of Origin
JP
UNSPSC Number
00441217
Meets ANSI/BIFMA?
030246601532
Product ID
7457955
Customer Questions & Answers
No one has asked us a question about this product yet. If you have one, ask away!
No written reviews yet for this product. Help others by writing one!
100% Satisfaction Guarenteed!
If you experience a problem with any of our products, customer service, shipping, or even if you just plain don't like what you bought, please let us know. We'll do whatever it takes to make it right.
Copyright © 2020 OnTimeSupplies.com, an
Office Supplies
company. P.O. Box 888016, Atlanta, GA 30356.
Document printed / saved on 08/03/2020. Prices subject to change.