Purchase Order Book
5 9/16 x 8 7/16, Two-Part Carbonless, 50 Sets/Book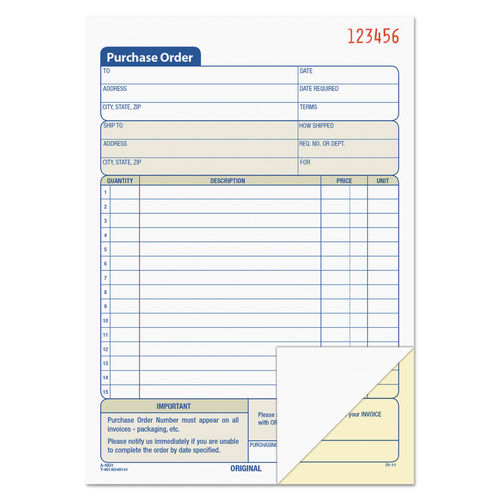 Product Details
Purchase Order Book, 5 9/16 x 8 7/16, Two-Part Carbonless, 50 Sets/Book
Consecutively numbered purchase orders and numbered lines help with record keeping. Keep a copy for a permanent record.
Dimensions / Specifications
Unit of Measure
EA
Item Dimensions
5.40 in. x 0.40 in. x 8.50 in. (W x H x D)
Item Weight
0.441 lbs
Box Pack Quantity
10 EA
Carton Pack Quantity
100 EA
Carton Pack Dimensions
12.50 in. x 16.25 in. x 18.50 in. (W x H x D)
Carton Pack Weight
50.000 lbs
This item is sold by the EA
Shipping Info
Can Ship via UPS?
Yes
Can Ship via Air Carrier?
Yes
Hazmat restrictions?
No
Additional Information
Considered Green (less environmental impact)?
No
Made of Some or All Recycled Materials?
No
Warranty Offered?
No
Item Specifications
Brand
TOPS™
Global Product Type
Forms-Sales & Work Order
Form Size
5.56 x 8.44
Forms Per Page
1
Number of Entry Lines
12
Form Quantity
50
Sheet Size
5.56 x 8.56
Principal Heading(s)
Purchase Order
Layout
One Form on Page
Numbering
Preprinted at Top;Preprinted Listing Lines
Copy Types
Two-Part Carbonless
Binding
Top: Glued
Punching
Bottom, Two-Hole
Paper Color(s)
Blue; White
Print and Ruling Color(s)
Blue
Numbering Color(s)
Blue;Red
Copy Paper Color(s)
Canary
Pre-Consumer Recycled Content Percent
0%
Post-Consumer Recycled Content Percent
0%
Total Recycled Content Percent
0%
Special Features
Carbonless Duplicate-15 lines
Manufacturer Info
Brand
TOPS™ (website)
Brand Contact
800-282-7261
Warranty Offered?
n
Manufacturer Stock No.
46140
Retail UPC
025932461408
Country of Origin
MX
UNSPSC Number
00141118
Meets ANSI/BIFMA?
025932461408
Product ID
6059802
Customer Questions & Answers
No one has asked us a question about this product yet. If you have one, ask away!
No written reviews yet for this product. Help others by writing one!
100% Satisfaction Guarenteed!
If you experience a problem with any of our products, customer service, shipping, or even if you just plain don't like what you bought, please let us know. We'll do whatever it takes to make it right.
Copyright © 2020 OnTimeSupplies.com, an
Office Supplies
company. P.O. Box 888016, Atlanta, GA 30356.
Document printed / saved on 09/22/2020. Prices subject to change.