Dry Erase Surface Cleaner
8oz Spray Bottle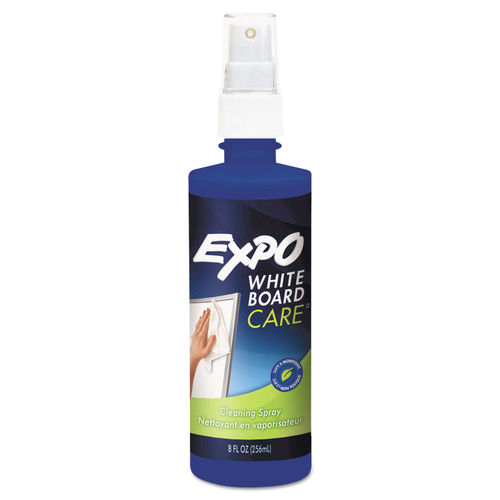 Due to extreme demand, we cannot guarantee stock on this item.
more
A refund will be issued if we cannot fulfill this item.
Item #:
SAN81803
by
EXPO®
Choose a variation:
View List

This item cannot be returned; however, damaged or defective items may be replaced or credited.
Nontoxic cleaner for whiteboards that is perfect for classroom and conference room use.
Cleans and refreshes whiteboards.
Simply spray and wipe with a soft cloth.
Compare us to Big Box Retailers!
Office Depot $5.69
Staples $5.79
* Disclaimer
The competitor pricing information we've provided is for reference only. We strive to keep our data current but occasionally pricing may be out of date. Comparison pricing does not reflect any on-going promotion, discount or contract pricing. Comparison also does not include tax or shipping costs. Office Depot and Staples are copyright trademarks of their respective owners.
Product Details
Dry Erase Surface Cleaner, 8oz Spray Bottle
Nontoxic formula makes this ideal for classrooms and conference rooms. Easily cleans and refreshes whiteboards--just spray and wipe with a soft cloth.
Dimensions / Specifications
Unit of Measure
EA
Item Dimensions
2.00 in. x 7.75 in. x 2.00 in. (W x H x D)
Item Weight
0.598 lbs
Box Pack Quantity
1 EA
Carton Pack Quantity
12 EA
Carton Pack Dimensions
6.75 in. x 8.75 in. x 8.25 in. (W x H x D)
Carton Pack Weight
7.700 lbs
This item is sold by the EA
Shipping Info
Can Ship via UPS?
Yes
Can Ship via Air Carrier?
Yes
Hazmat restrictions?
No
Additional Information
Considered Green (less environmental impact)?
Yes
Made of Some or All Recycled Materials?
No
Warranty Offered?
No
Item Specifications
Brand
EXPO®
Global Product Type
Cleaners & Detergents-Dry Erase Board Cleaner/Conditioner
Application
Dry Erase Board Cleaner/Conditioner
Applicable Material
Aluminum; Ceramics; Enamel; Fiberglass; Laminates; Melamine; PET; Steel
Dirt Types
Dry-Erase Inks; Shadows; Stains
Scent
Low Odor
Physical Form
Liquid
Packing Type
Spray Bottle
Capacity (Volume)
8 oz
Compliance Standards
ACMI AP Non-Toxic Certified; Conforms to ASTM D4236 Standards
Pre-Consumer Recycled Content Percent
0%
Post-Consumer Recycled Content Percent
0%
Total Recycled Content Percent
0%
Manufacturer Info
Brand
EXPO® (website)
Brand Contact
1-800-346-3278
Warranty Offered?
n
Manufacturer Stock No.
81803
Staples Equivalent SKU
120741
Office Max Equivalent SKU
10011603
Office Depot Equivalent SKU
204057
Retail UPC
071641818033
Country of Origin
US
UNSPSC Number
00441119
Meets ANSI/BIFMA?
071641818033
Product ID
7421423
Customer Questions & Answers
No one has asked us a question about this product yet. If you have one, ask away!
No written reviews yet for this product. Help others by writing one!
100% Satisfaction Guarenteed!
If you experience a problem with any of our products, customer service, shipping, or even if you just plain don't like what you bought, please let us know. We'll do whatever it takes to make it right.
Copyright © 2020 OnTimeSupplies.com, an
Office Supplies
company. P.O. Box 888016, Atlanta, GA 30356.
Document printed / saved on 07/07/2020. Prices subject to change.