Metal Wall Shelf Rack
Powder Coated Textured Steel, 36w x 14-1/2d x 6h, Black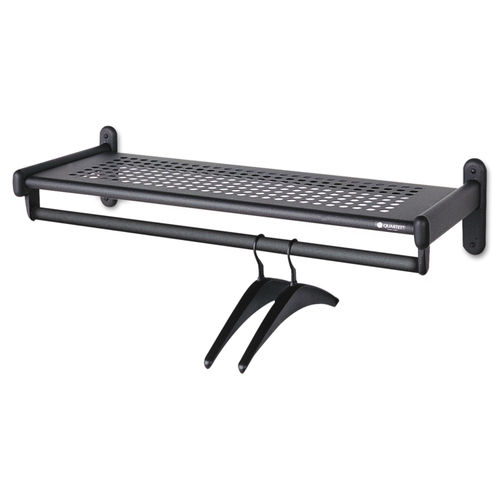 Choose a variation:
View List

Steel shelf with flat, perforated top includes a rail for hanging garments.
Shelf mounts securely to any wall.
Black powder-coat finish is modern and discreet.
Compare us to Big Box Retailers!
Staples $145.99
* Disclaimer
The competitor pricing information we've provided is for reference only. We strive to keep our data current but occasionally pricing may be out of date. Comparison pricing does not reflect any on-going promotion, discount or contract pricing. Comparison also does not include tax or shipping costs. Office Depot and Staples are copyright trademarks of their respective owners.
Product Details
Metal Wall Shelf Rack, Powder Coated Textured Steel, 36w x 14-1/2d x 6h, Black
Durable garment shelf with evenly indexed hanger rail secures to any wall to keep garments separate and neatly organized. Perforated shelf above the rack adds additional storage. Attractive black steel complements any environment. Pair with Quartet® hangers for complete garment storage. 100% Satisfaction Guaranteed.
Dimensions / Specifications
Unit of Measure
EA
Item Dimensions
34.50 in. x 2.88 in. x 13.38 in. (W x H x D)
Item Weight
15.000 lbs
Box Pack Quantity
1 EA
Carton Pack Quantity
1 EA
Carton Pack Dimensions
34.50 in. x 2.88 in. x 13.38 in. (W x H x D)
Carton Pack Weight
15.000 lbs
This item is sold by the EA
Shipping Info
Can Ship via UPS?
Yes
Can Ship via Air Carrier?
Yes
Hazmat restrictions?
No
Additional Information
Considered Green (less environmental impact)?
No
Made of Some or All Recycled Materials?
No
Warranty Offered?
No
Item Specifications
Brand
Quartet®
Global Product Type
Clothes Racks-Wall Racks
Mounting
Wall
Width
36"
Depth
14.5"
Height
6"
Hanging Capacity
12 Garments
Storage
Perforated Shelves; Top Shelf
Material(s)
Steel
Color(s)
Black
Pre-Consumer Recycled Content Percent
0%
Post-Consumer Recycled Content Percent
0%
Total Recycled Content Percent
0%
Manufacturer Info
Brand
Quartet® (website)
Brand Contact
800-541-0094
Warranty Offered?
n
Manufacturer Stock No.
20403
Staples Equivalent SKU
891996
Retail UPC
034138204030
Country of Origin
CN
UNSPSC Number
00561015
Meets ANSI/BIFMA?
034138204030
Product ID
5094297
Customer Questions & Answers
How many hangers can fit on the rack? Are any included?
Up to 18 hangers can fit on the rack! The hangers are not included.
No written reviews yet for this product. Help others by writing one!
100% Satisfaction Guarenteed!
If you experience a problem with any of our products, customer service, shipping, or even if you just plain don't like what you bought, please let us know. We'll do whatever it takes to make it right.
Copyright © 2020 OnTimeSupplies.com, an
Office Supplies
company. P.O. Box 888016, Atlanta, GA 30356.
Document printed / saved on 07/08/2020. Prices subject to change.