Mirado Black Warrior Woodcase Pencil
HB #2, Black Matte, Dozen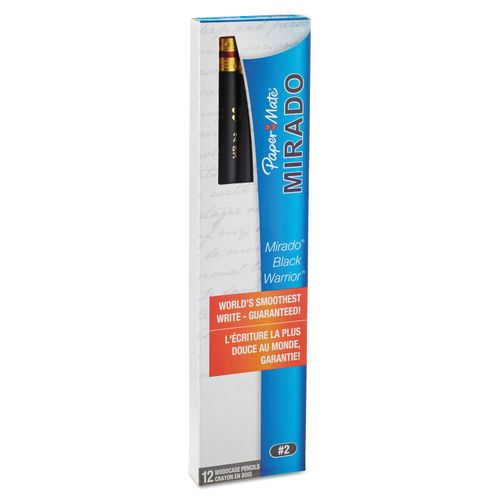 Ultra-smooth core sharpens to a fine point.
HB #2 core writes smoothly and is ideal for standardized tests.
Durable wood case construction.
Non-smudge eraser for easy, clean corrections.
Black matte finish adds stylish flair.
Compare us to Big Box Retailers!
Office Depot $3.69
Staples $4.09
* Disclaimer
The competitor pricing information we've provided is for reference only. We strive to keep our data current but occasionally pricing may be out of date. Comparison pricing does not reflect any on-going promotion, discount or contract pricing. Comparison also does not include tax or shipping costs. Office Depot and Staples are copyright trademarks of their respective owners.
Product Details
Mirado Black Warrior Woodcase Pencil, HB #2, Black Matte, Dozen
Designed for smooth, precise writing, the Paper Mate Mirado Black Warrior Pencil features an ultrasmooth core that sharpens to a fine, exact point and a premium non-smudge eraser that makes clean corrections without tearing the paper. This pencil combines durable wood case construction with a contoured barrel to provide a comfortable grip. With its cedar wood barrel and black matte finish, this pencil has a professional and elegant look.
Dimensions / Specifications
Unit of Measure
DZ
Item Dimensions
0.70 in. x 7.60 in. x 1.90 in. (W x H x D)
Item Weight
0.153 lbs
Box Pack Quantity
1 DZ
Carton Pack Quantity
120 DZ
Carton Pack Dimensions
12.20 in. x 13.80 in. x 8.30 in. (W x H x D)
Carton Pack Weight
19.000 lbs
This item is sold by the DZ
Shipping Info
Can Ship via UPS?
Yes
Can Ship via Air Carrier?
Yes
Hazmat restrictions?
No
Additional Information
Considered Green (less environmental impact)?
No
Made of Some or All Recycled Materials?
No
Warranty Offered?
No
Item Specifications
Brand
Paper Mate®
Global Product Type
Pencils-Woodcase
Retractable (Yes/No)
No
Eraser (Yes/No)
Yes
Graphite Color(s)
Black
Color Family
Black
Pencil Barrel Color(s)
Black Matte
Pencil Barrel Material
Wood
Pencil Grip Type
Hexagonal
Numeric Graphite Scale
#2
HB Graphite Scale
HB
Refillable (Yes/No)
No
Pocket Clip (Yes/No)
No
Pre-Sharpened Woodcase (Yes/No)
No
Compliance Standards
Box Tops for Education
Pre-Consumer Recycled Content Percent
0%
Post-Consumer Recycled Content Percent
0%
Total Recycled Content Percent
0%
Manufacturer Info
Brand
Paper Mate® (website)
Brand Contact
800-323-0749
Warranty Offered?
n
Manufacturer Stock No.
2254
Staples Equivalent SKU
608000
Office Max Equivalent SKU
20451547
Office Depot Equivalent SKU
614263
Retail UPC
070735022547
Country of Origin
MX
UNSPSC Number
00441217
Meets ANSI/BIFMA?
070735022547
Product ID
7946577
Customer Questions & Answers
No one has asked us a question about this product yet. If you have one, ask away!
Only place I can find these pencils @this price (too bad the shipping is too high).
Mirado Black Warriors are the absolute best pencil to use on standardized tests. The lead stays sharp, the eraser cleans up the lead and does not tear the test book or answer sheet. This is the only pencil that I recommend; this is the only pencil that I use at my summer SAT camps. I give 5 of these pencils to all of my private lesson students to use when they take the PSAT or SAT.
This may sound funny, but I just love these pencils. I have been using them for as long as I can remember. My mom always bought them for me for school growing up and I continued to buy them when I was on my own, in college and for work. I have always done a lot of math in my field so I always have pencils around. I have tried just about all of them, but nothing works like a Black Warrior. I now purchase them for my own kids for school. I get so frustrated with all the cheap, made in China pencils that break, jam up your sharpener and don't erase! These have a very smooth writing, dark lead and the erasers are amazing. The best part is that they are made in the U.S.A! You can't go wrong with this product and this is a great price, especially if you if you purchase enough to get the free shipping!
First time order and vet impressed! I have been searching for either a red or black wood barrel pencil, which were hard to find at reasonable cost. Found them here, and our Mathnasium center kids love them! Eraser quality is excellent and they like the matte finish. Was amazed how quickly they were delivered too. Thank you!
100% Satisfaction Guarenteed!
If you experience a problem with any of our products, customer service, shipping, or even if you just plain don't like what you bought, please let us know. We'll do whatever it takes to make it right.
Copyright © 2020 OnTimeSupplies.com, an
Office Supplies
company. P.O. Box 888016, Atlanta, GA 30356.
Document printed / saved on 08/10/2020. Prices subject to change.