1040990/1040993 Compatible Ribbon
Black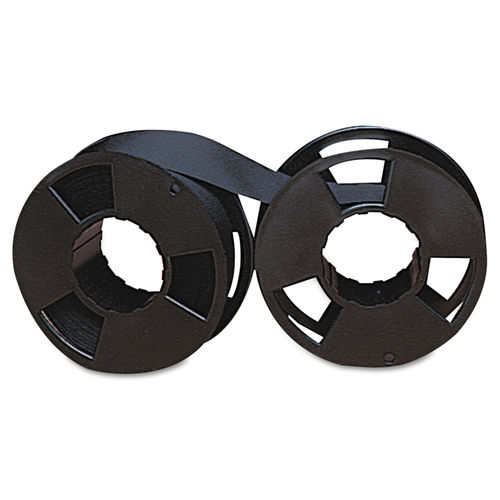 Choose a variation:
View List

1040990/1040993 Compatible Ribbon, Black
For use with IBM® 6400 and 6408 printers.
Compare us to Big Box Retailers!
Office Depot $147.99
Staples $145.99
* Disclaimer
The competitor pricing information we've provided is for reference only. We strive to keep our data current but occasionally pricing may be out of date. Comparison pricing does not reflect any on-going promotion, discount or contract pricing. Comparison also does not include tax or shipping costs. Office Depot and Staples are copyright trademarks of their respective owners.
Product Details
1040990/1040993 Compatible Ribbon, Black
This product fits the following machines:
ADP Printronix
Advanced Info 3510
Advanced Info 905
Advisor Printronix
AM Jacquard P300
American Mopas Printronix
Banctec 9400 Printer
Basic Four/MAI 0916 Spool
Basic Four/MAI 0918
Basic Four/MAI 150
Basic Four/MAI 300
Basic Four/MAI 3150
Basic Four/MAI 3151
Basic Four/MAI 3152
Basic Four/MAI 3160
Basic Four/MAI 3207
Basic Four/MAI 3510
Basic Four/MAI 3560
Basic Four/MAI 3561
Basic Four/MAI 3562
Basic Four/MAI 3904
Basic Four/MAI 3905
Basic Four/MAI 4201
Basic Four/MAI 4214
Basic Four/MAI 4219
Basic Four/MAI 4224
Basic Four/MAI 4235 - 3904
Basic Four/MAI 4236 - 3904
Basic Four/MAI 510 Spool
Basic Four/MAI 520
Basic Four/MAI 600
Basic Four/MAI 610
Basic Four/MAI 700
Basic Four/MAI 730
Basic Four/MAI 810 Spool
Basic Four/MAI 905
Basic Four/MAI 950
Basic Four/MAI S-10
Basic Four/MAI S-20
Bell & Howell MPT
Braegen LDP300
Braegen LDP600
Cado Systems P300
Cado Systems P301
Cado Systems P600
Cado Systems P601
Cado Systems Printronix
Calcomp LPD-300
Compaq LG05 Plus
Compaq LG10 Plus
Compaq LG15 Plus
Compaq LGL5 Plus
CTM 900
CTM ZD 200
CTM ZD 300
CTM ZD 600
Decision 1Data 6605-A00
Decision 1Data 6605-A00P
Decision 1Data 6605-CTA
Decision 1Data 6605-Ctap
Decision 1Data 6605-TIA
Decision 1Data 6605-Tiap
Decision 1Data 6608 New Style
Decision 1Data 6608-AOO
Decision 1Data 6608-CTA
Decision 1Data 6610 - New Model
Decision 1Data 6615 - New Model
Decision 1Data 6704
Digital Associates P300
Digital Associates P600
Digital Equipment/DEC LG 04 Plus
Digital Equipment/DEC LG 05 Plus
Digital Equipment/DEC LG 06
Digital Equipment/DEC LG 08
Digital Equipment/DEC LG 08 Plus
Digital Equipment/DEC LG 09 Plus
Digital Equipment/DEC LG 12
Digital Equipment/DEC LG 12 Plus
Digital Equipment/DEC LG 14 Plus
Digital Equipment/DEC LGL 4 Plus
Digital Equipment/DEC LGL 5 Plus
Digital Equipment/DEC LGL 8 Plus
Digital Equipment/DEC LGL 9 Plus
Digital Equipment/DEC LXY
Digital Equipment/DEC LXY 11
Digital Equipment/DEC LXY 12
Digital Equipment/DEC LXY 21
Digital Equipment/DEC LXY 22
Easiprint Printronix
Evolution Corp. P300
Facit D 1150
Facit D 3040
Facit D 4280
Facit D 6085
Facit D 6280
Facit L 404
Facit L 408
Facit L 412
Famox 300
GBT 5040
GBT 5080
General Automation 631
General Automation 633
General Automation 636
General Automation MVP
Global Equipment P300
Global Equipment P600
Harris 4440
Harris H162
Harris H162-300
Harris H162-600
Hasi H162-300
Hasi H162-600
HOH 300
Honeywell PRU 0150
Honeywell PRU 0602
HP LP 475
HP LP 500
HP LP 800
HP LPQ 1000
HP LPQ 1200
HP LPQ 1400
HP LPQ 1500
HP LPQ 475
HP LPQ 500
HP LPQ 800
Huntress Corp. P5205
IBM/InfoPrint 6400 Series 6400 Model 004
IBM/InfoPrint 6400 Series 6400 Model 005
IBM/InfoPrint 6400 Series 6400 Model 008
IBM/InfoPrint 6400 Series 6400 Model 009
IBM/InfoPrint 6400 Series 6400 Model 010
IBM/InfoPrint 6400 Series 6400 Model 012
IBM/InfoPrint 6400 Series 6400 Model 014
IBM/InfoPrint 6400 Series 6400 Model 015
IBM/InfoPrint 6400 Series 6400 Model 050
IBM/InfoPrint 6400 Series 6408
Interface Corp. 4100SC
Interface Systems 7234 Model 011
Interface Systems 7234 Model 012
Interface Systems 7234 Model 1
Interface Systems 7234 Model 2
Interface Systems 9400-004
Interface Systems 9400-008
Interface Systems 9400-012
Interface Systems PR150
Interface Systems PR300
Jacquard P300
KMW Hasp
Kodak KAR-400
Lanier DM-300
Lanier H162-300
Lanier H162-600
Lee Data 1380
Logicon TPS
Lowell Systems 1001
Lowell Systems 1010
Matthews MPS 4000
McDonnell Douglas 975
McDonnell Douglas 980
McDonnell Douglas 985
McDonnell Douglas Reality
McDonnell Douglas Sequel
MCSI Printronix
Memorex 1236
Memorex 1251-1
Memorex 1252
Memorex 1280
Memorex 1500 Series by MTX
Memorex 1505
Memorex 1508
Memorex 1512
Memorex 2089
Mesa 300
Mesa 600
Micon/X MXL-6280
Micon/X MXL-9212
Microdata 5315
Microdata 5330
Microdata 5360
Microdata 975
Microdata 980
Microdata 985
Microdata Printronix
Microdata Reality
Microdata Sequel
Miltope Corp. 3609-212A
Mini Computer Systems 600 LPM
Moore Business Forms Series 60
NCR 2872
NSA AD 30/60
Pertec SL20
Pertec SX40
Philips P2962
Philips P2982
Philips P4500
Philips PTS 6883
Plessey LP300
Plessey LP600
Plessey Lpvii/300
Plessey Lpvii/600
Prime 3126
Prime 3173
Prime 3174
Prime 3226
Printronix 102247
Printronix 102796
Printronix 150
Printronix 150B
Printronix 300
Printronix 600 N.S.
Printronix L150 BAR Code
Printronix L300 BAR Code
Printronix L600 BAR Code
Printronix L6040
Printronix L6280
Printronix MVP150B
Printronix MVP150C
Printronix MVP2
Printronix P150
Printronix P300
Printronix P300 M
Printronix P300 MXQ
Printronix P300 XQ
Printronix P3020
Printronix P3040
Printronix P3040 Quiet
Printronix P3040-CT
Printronix P3240-CT
Printronix P3240-NET
Printronix P4005
Printronix P4008
Printronix P4205
Printronix P600
Printronix P600 M
Printronix P600 MVP
Printronix P600 MXQ
Printronix P600 XQ
Printronix P6040
Printronix P6040 L
Printronix P6080
Printronix P6080 L
Printronix P6240
Printronix P6240 L
Printronix P6280
Printronix P6280 L
Printronix P9005
Printronix P9009
Printronix P9012
Printronix P9012-CH
Printronix P9012-CT
Printronix Taskmaster
Radio Shack DMP 2150
Radio Shack LMP 2150
Randal Data System Turnkey
Raytheon 2180-3
Raytheon 2189
Raytheon 2189-3
Raytheon 2189-6
Raytheon 3311 300LPM
Raytheon 3311 600LPM
Raytheon 3313
Raytheon 3316
Rexon 523
Rexon Printronix
RUF NR 66 Printronix
Southwest Data Systems SDS 300
Southwest Data Systems SDS 600
Standard Register Flip
Standard Register P 150
Standard Register P 300
Standard Register P 600
Tandem 5525B
Tandem 5531
Tandem 5532
Tempest Tech LPM 5300 XQ
Tempest Tech LPM 5600 XQ
Texas Instruments 300
Texas Instruments 600
Texas Instruments LP300
Texas Instruments LP600
Texas Instruments LXY-11
Trilog T100
Trilog T1000
Trilog T1100
Triumph Adler TA 300
Triumph Adler ZD 300
Ultimate Corp. Printronix
Unisys LP 1200
Unisys LP 800
Unisys UMS-1000
Unisys UMS-1400
Unisys UMS-1500
Unisys UMS-475
Unisys UMS-475 PED
Unisys UMS-500
Unisys UMS-501
Unisys UMS-800
Visara 1505
Visara 1508
Visara 1509
Visara 1510
Visara 1512
Visara 1515
Wang LM400
Wang LM700
Wang LM900
Weber Label Printer
Weber Label Printer 62
Weber Label Printer 63
Weber Label Printer 64
Weber Label Printer 66
Weber Label Printer 67
Weber Label Printer 68
Weber Legitronic 1700 Label
Weber Legitronic 50
Weber Legitronic 55
Weber Legitronic 60
Wincor Nixdorf 9045-10
Wincor Nixdorf 9045-20
Wincor Nixdorf 9045-40
Wincor Nixdorf ZD 09

For use with IBM® 6400 and 6408 printers.
Dimensions / Specifications
Unit of Measure
BX
Item Dimensions
7.70 in. x 4.25 in. x 9.10 in. (W x H x D)
Item Weight
2.578 lbs
Box Pack Quantity
6 EA
Box Pack Dimensions
7.70 in. x 4.25 in. x 9.10 in. (W x H x D)
Box Pack Weight
2.578 lbs
Carton Pack Quantity
54 EA
Carton Pack Dimensions
9.50 in. x 23.50 in. x 13.25 in. (W x H x D)
Carton Pack Weight
22.000 lbs
This item is sold by the BX which contains 6 EA
Shipping Info
Can Ship via UPS?
Yes
Can Ship via Air Carrier?
Yes
Hazmat restrictions?
No
Additional Information
Considered Green (less environmental impact)?
No
Made of Some or All Recycled Materials?
No
Warranty Offered?
Yes
Warranty Comments
Manufacturer's limited 12-month warranty.
Item Specifications
Brand
Lexmark™
Global Product Type
Ink/Correction Ribbons
Device Types
Printer
Color(s)
Black
OEM/Compatible
Compatible
Ribbon Type
General Purpose
Material(s)
Nylon
Character Yield
20,000,000
For Use With
IBM® 6400, 6408
Pre-Consumer Recycled Content Percent
0%
Post-Consumer Recycled Content Percent
0%
Total Recycled Content Percent
0%
Manufacturer Info
Brand
Lexmark™ (website)
Brand Contact
800-358-5835
Warranty Offered?
y
Manufacturer Stock No.
1040990
Staples Equivalent SKU
887440
Office Max Equivalent SKU
20133801
Office Depot Equivalent SKU
272333
Retail UPC
734646072519
Country of Origin
US
UNSPSC Number
00441031
Meets ANSI/BIFMA?
734646072519
Product ID
5392667
Customer Questions & Answers
No one has asked us a question about this product yet. If you have one, ask away!
No written reviews yet for this product. Help others by writing one!
100% Satisfaction Guarenteed!
If you experience a problem with any of our products, customer service, shipping, or even if you just plain don't like what you bought, please let us know. We'll do whatever it takes to make it right.
Copyright © 2020 OnTimeSupplies.com, an
Office Supplies
company. P.O. Box 888016, Atlanta, GA 30356.
Document printed / saved on 08/03/2020. Prices subject to change.