OnTimeSupplies.com
1-866-501-6055
Antibacterial Foaming Hand Wash
Fresh Pear, 7.5 oz Pump Bottle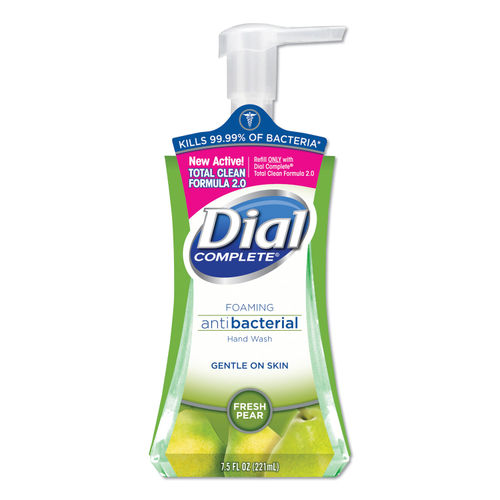 Due to extreme demand, we cannot guarantee stock on this item.
more
A refund will be issued if we cannot fulfill this item.
Item #:
DIA02934
by
Dial®
Choose a variation:
View List

Fresh Pear, 7.5 oz Pump Bottle
This item cannot be returned; however, damaged or defective items may be replaced or credited.
Kills 99.99% of bacteria encountered in household settings.
As mild as water itself and specially formulated for frequent hand washers.
Gentle on skin and mild as water itself.
Product Details
Antibacterial Foaming Hand Wash, Fresh Pear, 7.5 oz Pump Bottle
Antibacterial Foaming Hand Wash Kills 99.99% of bacteria encountered in household settings. Moisturizing formula is gentle on skin and mild enough for frequent use.
Dimensions / Specifications
Unit of Measure
EA
Item Dimensions
3.00 in. x 7.00 in. x 2.00 in. (W x H x D)
Item Weight
0.780 lbs
Carton Pack Quantity
8 EA
Carton Pack Dimensions
7.26 in. x 7.80 in. x 7.10 in. (W x H x D)
Carton Pack Weight
6.000 lbs
This item is sold by the EA
Shipping Info
Can Ship via UPS?
Yes
Can Ship via Air Carrier?
Yes
Hazmat restrictions?
No
Additional Information
Is Certified with EPA/CPG?
No
Considered Green (less environmental impact)?
Yes
What Make it Green?
Recyclable pack.
Made of Some or All Recycled Materials?
No
Warranty Offered?
No
Underwriter's Laboratory Approval?
No
Item Specifications
Brand
Dial®
Global Product Type
Personal Soaps-Foam
Soap Type
Foam
Application
Hand
Capacity (Volume)
7.5 oz
Scent
Fresh Pear
Packing Type
Pump Bottle
Color(s)
Green
Compliance Standards
BPI Certified
Pre-Consumer Recycled Content Percent
0%
Post-Consumer Recycled Content Percent
0%
Total Recycled Content Percent
0%
Manufacturer Info
Brand
Dial® (website)
Brand Contact
800-258-3425
Warranty Offered?
n
Manufacturer Stock No.
10017000029341
Staples Equivalent SKU
2484295
Office Max Equivalent SKU
21189955
Office Depot Equivalent SKU
727850
Retail UPC
017000029344
Country of Origin
US
UNSPSC Number
00531316
Meets ANSI/BIFMA?
017000029344
Product ID
9062332
Customer Questions & Answers
No one has asked us a question about this product yet. If you have one, ask away!
No written reviews yet for this product. Help others by writing one!
100% Satisfaction Guarenteed!
If you experience a problem with any of our products, customer service, shipping, or even if you just plain don't like what you bought, please let us know. We'll do whatever it takes to make it right.
Copyright © 2020 OnTimeSupplies.com, an
Office Supplies
company. P.O. Box 888016, Atlanta, GA 30356.
Document printed / saved on 06/05/2020. Prices subject to change.