OnTimeSupplies.com
1-866-501-6055
Brite Liner Grip Highlighter
Chisel Tip, Assorted Colors, 4/Set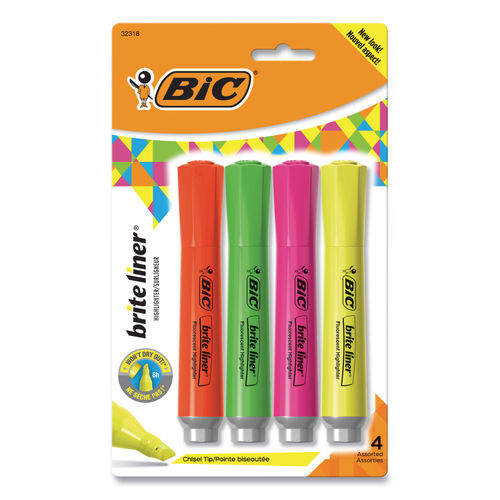 Item #:
BICBLMGP41ASST
by
BIC®
Choose a variation:
View List

Grip, Chisel Tip, Assorted Colors, 4/Se
Tank-style highlighter with super-bright fluorescent ink.
Textured rubber grip for added comfort.
Chisel tip for broad highlighting or fine underlining.
Won't dry out if the cap is left off for eight hours.
Compare us to Big Box Retailers!
Office Depot $5.59
Staples $4.99
* Disclaimer
The competitor pricing information we've provided is for reference only. We strive to keep our data current but occasionally pricing may be out of date. Comparison pricing does not reflect any on-going promotion, discount or contract pricing. Comparison also does not include tax or shipping costs. Office Depot and Staples are copyright trademarks of their respective owners.
Product Details
Brite Liner Grip Highlighter, Chisel Tip, Assorted Colors, 4/Set
BIC Brite Liner® Grip Highlighters feature super-bright fluorescent ink for attention-grabbing highlighting and a textured rubber grip for added comfort. Chisel tip is ideal for both broad highlighting and fine underlining. Won't dry out if the cap is left off for eight hours.
Dimensions / Specifications
Unit of Measure
ST
Item Dimensions
5.25 in. x 7.50 in. x 1.10 in. (W x H x D)
Item Weight
0.233 lbs
Box Pack Quantity
6 ST
Box Pack Dimensions
5.38 in. x 7.63 in. x 6.13 in. (W x H x D)
Box Pack Weight
1.430 lbs
Carton Pack Quantity
36 ST
Carton Pack Dimensions
8.18 in. x 11.68 in. x 19.37 in. (W x H x D)
Carton Pack Weight
9.580 lbs
Pack Quantity
4 EA
This item is sold by the ST which contains 4 EA
Shipping Info
Can Ship via UPS?
Yes
Can Ship via Air Carrier?
Yes
Hazmat restrictions?
No
Additional Information
Is Certified with EPA/CPG?
No
Considered Green (less environmental impact)?
No
Made of Some or All Recycled Materials?
No
Warranty Offered?
No
Underwriter's Laboratory Approval?
No
Item Specifications
Brand
BIC®
Color(s)
Assorted
Global Product Type
Highlighters-Stick Highlighters
Color Family
Multicolor
Assortment
Fluorescent Blue; Fluorescent Green; Fluorescent Pink; Fluorescent Yellow
Tip Type
Chisel
Retractable
No
Pocket Clip
Yes
Grip Type
Textured Rubber
Compliance Standards
ACMI AP Non-Toxic Certified
Pre-Consumer Recycled Content Percent
0%
Post-Consumer Recycled Content Percent
0%
Total Recycled Content Percent
0%
Manufacturer Info
Brand
BIC® (website)
Brand Contact
800-597-4950
Warranty Offered?
n
Manufacturer Stock No.
BLMGP41 AST
Staples Equivalent SKU
569975
Office Max Equivalent SKU
20800545
Office Depot Equivalent SKU
101784
Retail UPC
070330323186
Country of Origin
BR
UNSPSC Number
00441217
Meets ANSI/BIFMA?
070330323186
Product ID
9707456
Customer Questions & Answers
No one has asked us a question about this product yet. If you have one, ask away!
No written reviews yet for this product. Help others by writing one!
100% Satisfaction Guarenteed!
If you experience a problem with any of our products, customer service, shipping, or even if you just plain don't like what you bought, please let us know. We'll do whatever it takes to make it right.
Copyright © 2020 OnTimeSupplies.com, an
Office Supplies
company. P.O. Box 888016, Atlanta, GA 30356.
Document printed / saved on 06/07/2020. Prices subject to change.