Wire Shelving S Hooks
Metal, Black, 4 Hooks/Pack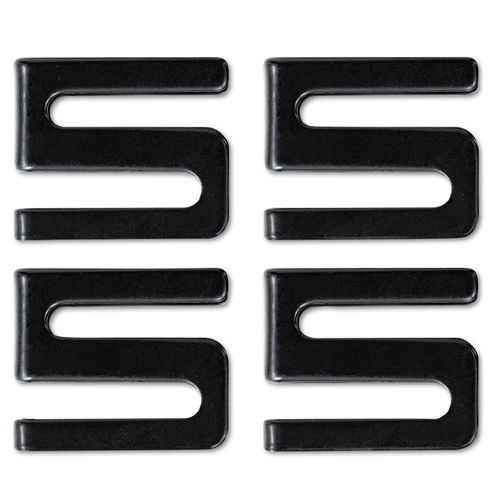 Product Details
Wire Shelving S Hooks, Metal, Black, 4 Hooks/Pack
Secure multiple shelving units together. Constructed to stand up to daily wear-and-tear.
Dimensions / Specifications
Unit of Measure
PK
Item Dimensions
2.17 in. x 2.36 in. x 3.74 in. (W x H x D)
Item Weight
0.310 lbs
Carton Pack Quantity
50 PK
Carton Pack Dimensions
8.27 in. x 12.99 in. x 13.78 in. (W x H x D)
Carton Pack Weight
18.790 lbs
Pack Quantity
4 EA
This item is sold by the PK which contains 4 EA
Shipping Info
Can Ship via UPS?
Yes
Can Ship via Air Carrier?
Yes
Hazmat restrictions?
No
Additional Information
Considered Green (less environmental impact)?
No
Made of Some or All Recycled Materials?
No
Warranty Offered?
Yes
Warranty Comments
Manufacturer's limited five-year warranty.
Item Specifications
This item requires assembly
Brand
Alera®
Global Product Type
Shelving Units-Parts-Hooks/Clips
Color
Black
Material(s)
Metal
For Use With
Alera® Wire Shelving Units
Compliance Standards
Meets or Exceeds ANSI/BIFMA Standards
Pre-Consumer Recycled Content Percent
0%
Post-Consumer Recycled Content Percent
0%
Total Recycled Content Percent
0%
Manufacturer Info
Brand
Alera®
Brand Contact
800-733-4095 (ask for furniture)
Warranty Offered?
y
Manufacturer Stock No.
ALESW59SHBL
Retail UPC
042167924447
Country of Origin
CN
UNSPSC Number
00561118
Meets ANSI/BIFMA?
042167924447
Product ID
9365651
Customer Questions & Answers
No one has asked us a question about this product yet. If you have one, ask away!
No written reviews yet for this product. Help others by writing one!
100% Satisfaction Guarenteed!
If you experience a problem with any of our products, customer service, shipping, or even if you just plain don't like what you bought, please let us know. We'll do whatever it takes to make it right.
Copyright © 2020 OnTimeSupplies.com, an
Office Supplies
company. P.O. Box 888016, Atlanta, GA 30356.
Document printed / saved on 08/10/2020. Prices subject to change.