Posted by
Frankye

at

On Time Supplies

| Posted in How-To Guides | Posted on 19-06-2013-05-2008
0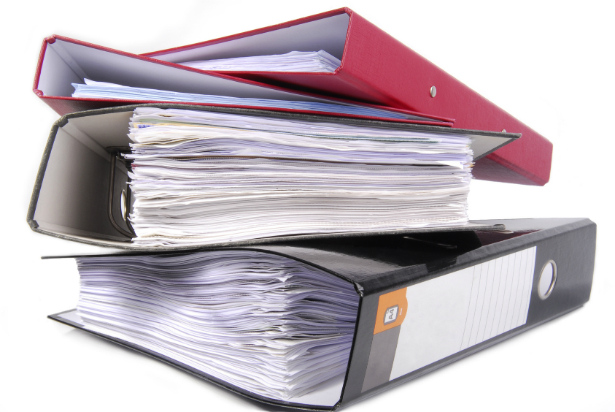 "How are binders measured?" is a common customer question at On Time Supplies. Generally, what people are really asking is if a particular binder will be big enough for their presentation, or their archival documents, or their reference materials. So Office Ink is here to clear up the mystery of 3-ring binder sizing. Let's clear up one thing first:  3-Ring Binders are measured by the ring diameter.  So this 1″ Avery View Binder  has 1″ binder rings, this Universal 4″ D-Ring Binder has 4″ rings, and so on.
Binder ring size is the first thing you need to know when determining if a binder is the right size for your project. Binder ring shape is the second. The most common are round rings, d-rings, and slant rings. Use the 3 ring binder size chart below to find out what size binders you'll need for your project.
3 Ring Binder Size Chart

Round Ring Binders

Ring Size:
Sheet Capacity:
½"
100 Sheets
1″
175 Sheets
1½"
275 Sheets
2″
375 Sheets
3″
460 Sheets

D-Ring Binders

Ring Size
Sheet Capacity
1″
200-275 Sheets
1½"
350-540 Sheets
2″
480-540 Sheets
3″
600-670 Sheets
4″
700-780 Sheets
5″
1,300 Sheets

Slant Ring Binders

Ring Size
Sheet Capacity
½"
120 Sheets
1″
220 Sheets
1½"
375 Sheets
2″
480 Sheets
3″
600 Sheets
4″
725 Sheets
5″
975 Sheets
More 3-Ring Binder info.
You can find in-depth information about the different binder styles in our buying guide, but here are a few quick tips:
Round ring binders: most economical, and hold the fewest pages.
D-ring binders: sturdier than round rings, and hold the most pages per inch.
Slant ring binders: sturdiest of the lot, but hold fewer pages than d-ring binders.